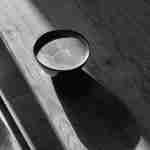 I have never really bought into the whole "black Friday" trend and have never been one to follow the trends of others, so following that ethos, I will not be doing any discounts for black Friday.
Instead I will be donating 10% of all online coffee sales taken over the weekend,
Friday 24th Nov – Sunday 26th Nov.
There seems to be a lot of pressure put on small businesses to follow the sales trends of big businesses, and in the most part it is hard for us to sustain those kind of discounts or the influx of fleeting orders. I would rather try and give back on a local level where I know a difference, even a small one, will be made.
This is something that I have been doing on a small scale since I opened and will continue to do as I grow, small ripples and all that.
So please join me in trying to make a small difference.
Or don't even buy coffee from me, just send the cost of a bag of coffee to a charity and start your own ripple.
This year I will be donating 10% of all online coffee sales taken over the weekend of 24th – 26th November, to The Lighthouse in Woking, Surrey.
The Lighthouse run so many projects to help out in the local area and seem to pick up new projects all the time. From a food bank, running a hub to support Ukrainian refugees, putting together back to school packs, life skills workshops, hair cuts, loaning clothes, interview skills, through to running a cafe- the Cosy, that helps fund some of these projects.
When I first started, I had a lot of spare coffee that was taken for the Jigsaw project. It was used to make free coffees for parents using the facility. Since then I have learnt more and more about The Lighthouse and have continued to donate coffee to the Jigsaw project.
"Our projects at The Lighthouse Woking are incredibly varied. The common theme is that we want to encourage, empower, and equip people… to see lives transformed through kindness, belief, and hope."
"Our Lighthouses are vibrant hubs that host a range of projects to support, encourage and empower anyone who finds themselves in need."